Just like real cars, adding aftermarket parts or custom paint to make them unique is also highly sought after by scale-fanatic and customizers.
That doesn't mean swapping parts on what you already own will turn you into a celebrity at the next roadshow. While most are created to signify a unique vehicle, some diecast cars hold intrinsic value for their history and craftsmanship.
View the top 10 valued diecast cars list for 2021 below, it's all about finding the right fit and expanding your collection (whether for you or your kids).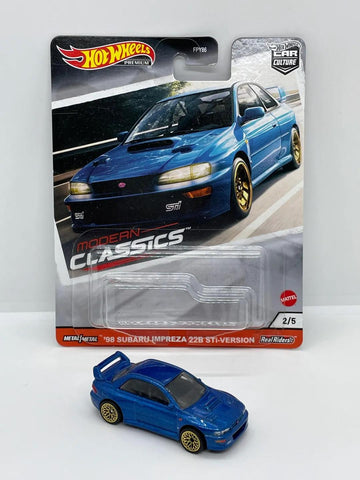 ●Car Culture Modern classics 2 '98 SUBARU IMPREZA 22B STi-Version - Hot Wheels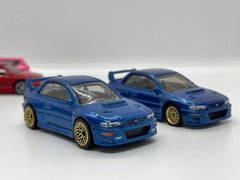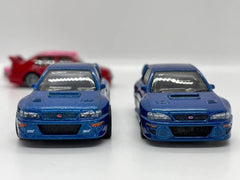 22B has a basic version at the beginning of 2020. Let's see the difference between the modern classics and the basic ones.
The high-gloss paint of Modern Classic 2 is brighter, more textured, and thicker. In addition, the windows of the two versions are visually inspected as one color. The basic version and car culture version of this car are more alike than others. For the front face, the red Subaru logo on the left car has a higher degree of restoration, and the basic version is a bit purple. The color separation of the lights is more detailed on the left one. And the left one of the fog lamp cover has the word STi on the 22B. Also, the car has rearview mirror detail.
There are spray holes on the top of the hood and wipers on the windows.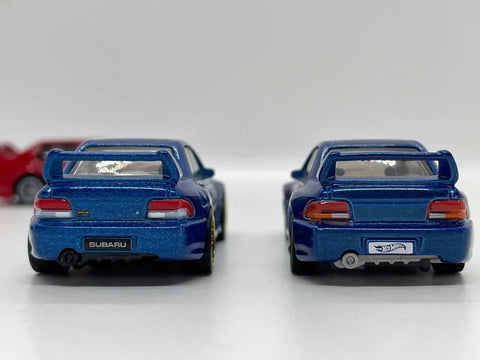 As for the tail, the modern classic 2 license plate on the left uses the word SUBARU, and the basic the Hot Wheels LOGO.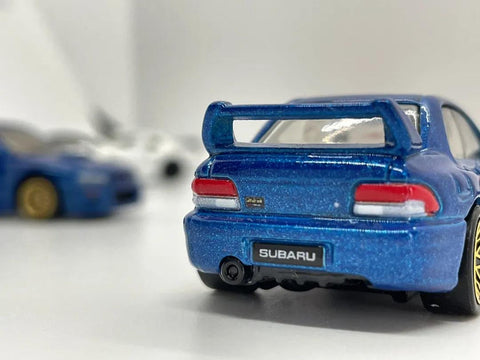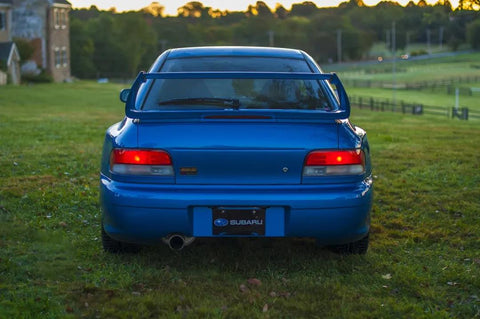 The modern classic 22B also has a 22B cherry blossom nameplate and a trunk keyhole. Basic only color car lights.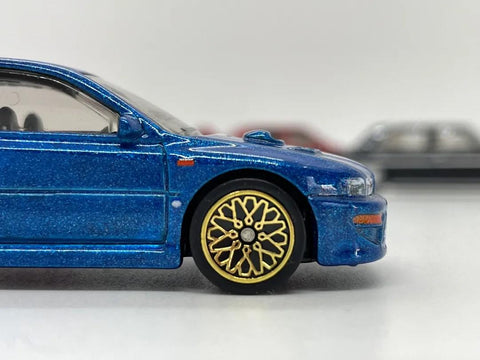 The wheels use golden RRMC multi-spoke wheels, and the rubber tires have no tread patterns. The side turn signal lights are also more detailed than basic.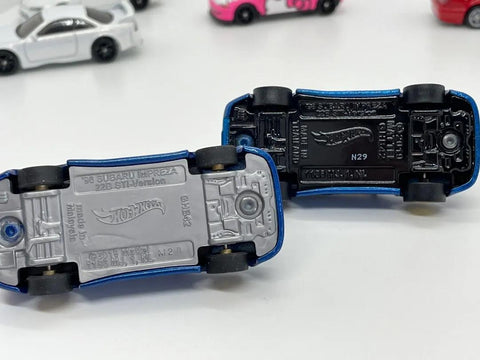 The chassis of the two cars are almost the same except for the materials and country of origin. The chassis of modern classic version is black piano baking. Mold is created in 2019.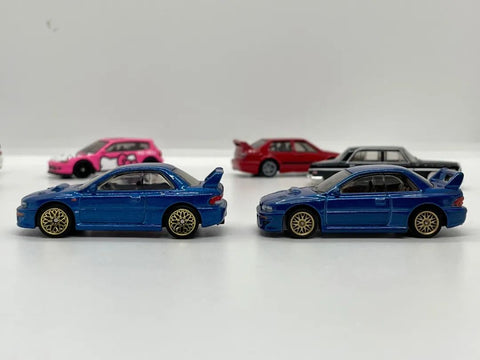 In fact, this one is not just the almost the same as the basic one as some collectors said. The word 22B on the tail is very clear, and the whole car has more fun when playing with the alloy bottom. The model is more beautiful than the 22B made by Tomica TP. This car has solid workmanship and meticulous painting. Therefore, it is one of the top 10 in our opinions.